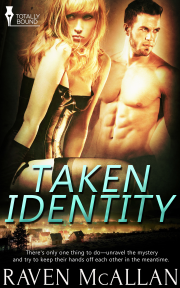 Title: Taken Identity
If someone steals your identity and marries a sex god and that sex god husband shows up at your door…do you get to keep him?




Jules has no memory of marrying a sex god—and no woman is that forgetful.



So when the devastatingly handsome Gray turned up on her doorstep looking for his wife and calling said wife by Jules' name, Jules wondered briefly if she'd landed in an alternative universe. She knows she's not his wife and so does he, but apparently someone with her name and history is. Is it a case of coincidence or did his missing wife 'borrow' Jules' life?

Even though the dominant Gray sends her knickers aflame with just one look, with a missing wife in the equation, Jules knows there's no chance of finding out what else he could achieve.

There's only one thing to do—unravel the mystery and try to keep their hands off each other in the meantime. The first may well prove far easier than the latter.



Reader Advisory: This book contains scenes of light bondage and BDSM.





Publisher's Note: This book was previously published elsewhere. It has been revised and re-edited for release with Totally Bound.
Taken Identity
by

Raven Mc Allan

is a fun, read that made me smile.

Jules or Julia is a children's author. She doesn't get out much she pretty much is a homebody.

Gray Reynard is tracking down his wayward wife who has stolen money from him.

This leads him to Jules.

Because he married a Julia Frayne.

But not the Jules he finds.

Jules would have remembered marrying a man as handsome and polished as Gray.

Gray is understandably frustrated.

They both end up on a chase for the person who stole Jules's identity, and along the way find love.
I do like the character of Jules she is brave, feisty, and very passionate.

She isn't the type of girl to be stupid and just trust a stranger either. She has some fight to her.
Gray comes off as pretty uppity at first. But we soon learn he is a very good guy underneath

all that frustration.

He also is a very dominate personality. I like vulnerable dominate men so Gray had me at hello.
When you want a cute passionate story if mistaken identity this is the one to pick up.