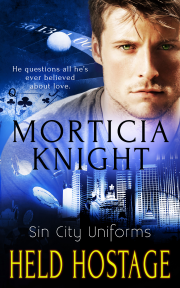 Title: Held Hostage
Series: Sin City Uniforms, 4
Publisher: Pride Publishing
SWAT officer Cole can handle just about anything, until he rescues Brett—a man who makes him question all he's ever believed about love.
As a member of the Las Vegas Police Department's SWAT team, Cole has seen his fair share of danger, but he's never taken a chance on love. He's willing to have some fun when the mood strikes him, but he's married to the job. Called in on a hostage situation, Cole is prepared for anything and everything… Except for the brave and beautiful Brett.
Brett has been burned before, most recently by Officer Parker McLean. He's hoping to settle down in Vegas, perhaps find someone he can build a life with. The last thing Brett's looking for is another man in uniform, but when he meets Cole, there's an attraction that can't be denied. He doesn't expect to fall for the chiseled alpha, though.
What begins as nothing more than two people experiencing a great night together spirals into something far deeper. But will Brett be able to handle the stress that comes with having a lover who constantly puts his life in jeopardy? And can Cole risk his heart on an everyday hero, or will the job he knows so well remain his top priority?
Reader Advisory: This book contains scenes of mild BDSM.
Publisher's Note: This book is best read as part of a series but can be read as a standalone.
General Release Date: 7th July 2015
Held Hostage
by author

Morticia Knight

is the fourth book in the Sin City Uniforms series. I have not read the first four and I was not lost at all.
Cole Silva is a swat team specialist. His job is to risk his life for others daily. This has cost him more than one boyfriend.

He loves his job. He is good at his job. He has a follow swat member he gets booty calls with. Life is good.

Who needs more than that?
Brett he has come to Vegas following the man of his dreams. Only that man doesn't want him. Brett is a romantic with a dreamer's heart.

Now he runs a GLBTQ center and hopes to meet the man of his dreams and that man wants him too.
Brett turns out to be what Cole needs, someone who believes love is possible. Cole needs that love to get him through things in this book. I liked watching Cole open himself up and be more than just a playboy who likes to save people.

Brett too learns a lot about himself as this book goes on.

I really feel both characters really came into their own when they were together.

I am really glad I got the chance to read this one and hope to read many more in the Sin City Uniforms series in the future.