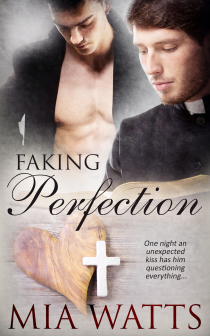 Title: Faking Perfection
Garth has never regretted his path into ministry…until one night an unexpected kiss has him questioning everything.
Father Garth is a priest with a problem. For years, he's had a fascination with a particular congregant. Though he's never actually acknowledged his sexuality, Garth's definitely more attracted to men than women. Fortunately, he hasn't had to deal with making a moral decision...until the night he is caught in the dark and kissed senseless. Now, he fantasizes that the kiss was from the one man he can't forget—Eli Jennings. For Garth, the man of his fantasies could be his, but how does he reconcile human desire with his vow to God?
Publisher's Note: This book was previously published elsewhere. It has been revised and re-edited for release with Totally Bound Publishing.
Faking Perfection
by author

Mia Watts

is a fast paced story with many layers. I love

Ms. Watts'

work she brings heart and soul to her characters along with a great storyline that keeps me wanting more.

I like the touch of taboo in this story, for me I like my stories a little edgy.

Ms. Watts

does that very well. She keeps the edge without making it over the top or corny.
Garth is a priest. He is also gay. He has known for a long time who he wants, but does he want the man of his dreams more than he wants to serve God? I liked his humanity. He is very real and very down to earth.

Also extremely brave.

Sometimes little tests make us into brave heroes and we don't even know it.
Eli he is attracted to Garth. Always has been. He is a true love kinda guy. Garth is it for him. He is willing to put it all on the line for the man he loves. Eli's youth and joyful nature make him a perfect man for Garth.
Over all, this book is very well written.

I like the characters and their connection.

Really feels like I am in the story.

I cannot wait to see what.

Ms. Watts

writes next. I know I will want to check it out.