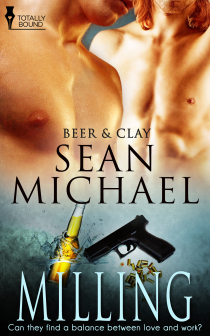 Title: Milling
Series: Beer and Clay
Author: Sean Michael
Publisher: Totally Bound
Genre: MM. Contemporary, light bdsm
Pages: 118
Reviewer: Redz
Buy Link https://www.totallybound.com/milling
Publisher's Blurb
Toby and Damon's whirlwind romance continues, but can they find a balance between love and work? Do they even want to?
Toby can scarcely believe that his life has changed so much in less than two weeks, but it has. His predictable little life has gone from routine to sexually adventurous in a matter of days. And to be honest, he wouldn't have it any other way.
Damon's just as into Toby, more interested in exploring with his new lover than spending all his time at the bar. Luckily things are running fairly smoothly there with his hand only occasionally needed on the rudder.
Their idyllic love affair has a few bumps to withstand, though, in the form of an intruder with a gun. Can Toby and Damon survive what happens next?
Review
Damon and Toby are back in Milling by

Sean Michael

.

This is not a standalone book. This is a continuation of Beer and Clay, 1.

Reminded me of being written almost serial style where it just begins where the other book leaves off. I liked this very much it allows me to really get into the mindset of the characters and where they see things going.
Damon still owns the Corner Pub. Still very much in love with his sub Toby and thinking of great ways to tease and bring the man out of his shell.

He loves that he is the first to see all the potential inside of Toby.

He has some very naughty ideas and loves pushing Toby's boundaries.
Toby is learning to trust Damon. He feels safe with the man. I like that he can still blush at the naughty ideas that Damon has. But he is always willing to go along with them.
In this book Toby is hurt badly this is a test to Damon and his relationship. It is still very new. Damon more than shows he is in this for the long haul.

Toby just has to let him lead.

I really think this story ads the essential layer to this relationship that it needs to break free from just being a sexual connection. This story shows how they work as a couple. I cannot wait to read more to be honest. These two have so much more to their story and I would love to read it.
Five Shooting Stars