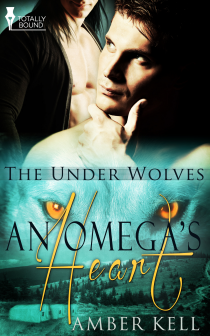 Series: The Under Wolves, 2
When everything is lost, the only thing left to fight for is love.
Conley Elnon has been abused most of his life. He agrees to help the War Council in uncovering a vampire mole in exchange for having the opportunity to find his family. When he meets his mate Jacob, he leaves him in order to track a mad bomber intent on taking out shifter camps.
Jacob refuses to let his mate escape. He's waited too long to find his fated mate to let him leave before he's had a chance to say little more than hello. When he finds his mate in the middle of vampire territory, Jacob has to use all his skills to help his mate figure out the truth between vampires and shifters and how they are responsible for what happened to Conley's family.
Reader Advisory: This book is best read in sequence as part of a series.
The Under Wolves, 2 An Omega's Heart by Amber Kell has the story of Conley an small abused shifter. He has agreed to help the War Council and find a vampire bomber. In exchange they will help him find his missing family. He has a great heart, lots of courage, and can fight. I liked he was no shrinking violet. He can hold his own in any fight. Conley's dad was always abusive to him but the man did not kill Conley's spirit. He is afraid of someone controlling him like his father did. He is strong and doesn't need someone stronger to protect him.
Jacob is a beta wolf.

He has worked as a cop before among the humans. Once he finds his mate tracking a vampire inside his pack,

Jacob knows he is his mate. After finding that out he will not let his mate track the vampires alone.

But Conley gets away and it takes Jacob a while but he does track him down. Loves that his mate is a fighter. He loves everything about Conley, and wants to help him in his fight.
I liked watching these two interact. They have real chemistry that leaps off the pages. I also like how they are perfect foils for each other. They are good apart but great together.
This is my first time reading this series, I will say you should read them in order but I was not lost I got the idea of what was going on just fine.
I hope for many more books in this series it has a lot of potential and I cannot wait to see where it goes in the future.