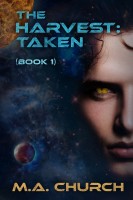 Title :The Harvest
Genre: MM, Sci fi futuristic
Buy Link:

https://www.smashwords.com/books/view/481145
In 2050, humanity finds out they are indeed not alone. Massive crafts appear without warning above the capitals of all major nations. The planet Tah'Nar is dying. Chemical warfare reduced the warrior race to sterility. They need fresh DNA in order to reproduce... and so they turn to Earth. Dale Michael assumes he's safe since he's under the age limit for The Harvest. How wrong he is!
We are not alone. In the year 2050 mankind's never-ending quest for proof life exists in the universe is answered—in the form of massive space ships that appear without warning above the capitals of all major nations. The name of their planet is Tah'Nar—and is dying. The United States sets up a lottery system, and each young man between the ages of twenty-three and twenty-eight is assigned a number. Once a year, for the next five years, numbers will be drawn and a new set of one thousand males will be collected. The media coined the expression 'The Harvest' for when the Tah'Narian's collect these young men.

Captain Keyno Landium Shou is a Tah'Narian starship captain who has been granted the right to take a mate, any mate, he wants during the last harvest on Earth. Dale was seventeen when the aliens first appeared. His parents assumed he'd be safe since the final collection would be done before he turned twenty-three. He didn't fall within the guidelines established, so they took for granted he had nothing to fear.

They were wrong.
M.A. Church has a story that caught me from page one with The Harvest: Taken.

Dale's initial abduction had me wondering where this book was going. Keyno at first I was like what is he doing just taking his mate like that. He scared poor Dale and his parents badly.

But once they adjust Dale proves to have spunk and charm that won me over.

Keyno is macho and protective, also truly kind.

They both have misunderstandings at first.

For the most part this story kept me completely enthralled. There is only one place in the book where a paragraph is repeated, I had to re read it twice because I thought I was having déjà vu.

Other than that little hiccup this book is amazing! I want more I hope Ms Church does much more in this universe. I actually really want to know what happens to Colt…please let his story be next.